UGREEN USB C Charger Cable 60W USB C Cable PD 3.0
Compare
Description
Product Description
Experience Lightning-Fast Charging and Data Transfer with the UGREEN USB C Charger Cable PD 3.0
Power up your devices and share data effortlessly with the UGREEN USB C Charger Cable. Designed to meet your fast-charging and high-speed data transfer needs, this cable is a game-changer for your electronic devices.
Key Features:
1. Power Delivery Support for Lightning-Fast Charging
Say goodbye to endless waiting for your devices to power up. The UGREEN USB C Charger Cable supports Power Delivery, allowing you to charge your iPhone 15 up to 60% or boost your MacBook Air 2022 by 50% in just 30 minutes. Note that to achieve the blazing 60W (20V/3A) output, you'll need a USB C charger of 60W or higher. It's all about getting you back to action in no time!
2. Swift Data Transfers in Seconds
Transfer your precious files and documents at lightning speed. This USB C cable provides transfer speeds of up to 480Mbps, allowing you to move a gigabyte of data, be it movies, music, documents, or entire photo libraries, in less than a minute. It's the ultimate solution for efficient data management. Please note that this cable does not support media display.
3. Universal Compatibility
The UGREEN USB C Charger Cable is the versatile companion your gadgets need. It's compatible with a wide range of devices, including iPhone 15/15 Pro, MacBook Pro, Elitebook, Zbook, Dell XPS, iPad, Samsung Galaxy Tab S8, Samsung Galaxy S23/S22/S21/Z Fold/Z Flip, Surface Go 3, Google Pixel, LG G8/7, and more. It's your all-in-one solution for multiple devices.
4. Built to Last: Longer Lifespan
Durability is the name of the game. This cable has been rigorously tested to endure over 10,000 bends and countless plugs and unplugs. Thanks to the built-in laser-welded connectors, detachment and cable rupture are worries of the past. You can trust this cable to keep up with your active lifestyle.
5. Safe and Reliable Charging
Worry less about overheating during charging. The UGREEN USB C Charger Cable features tinned copper wires that safeguard your device's well-being while it powers up. You can rely on it for safe and reliable charging every time.
Elevate your charging and data transfer experience with the UGREEN USB C Charger Cable. With its high-quality construction, exceptional compatibility, and impressive speed, it's the cable you can depend on. Don't settle for less; get the UGREEN USB C Charger Cable and supercharge your devices today!
Related products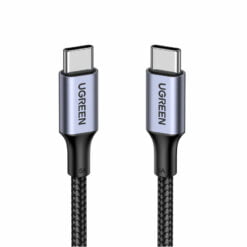 Out of stock
You have not viewed any product yet.