UGREEN Revodok Pro 11 in 1 USB C Hub Dual HDMI Docking Station
Only 2 left in stock
Compare
Description
Product Description
Unlock the Full Potential of Your Laptop with the UGREEN Revodok Pro 11-in-1 USB C Hub Dual Monitor Docking Station with Dual HDMI
Supercharge your laptop's capabilities with the UGREEN Revodok Pro 11-in-1 USB C Hub, a versatile docking station that takes connectivity to a whole new level. This all-in-one hub transforms your USB-C port into a powerhouse of productivity and creative potential.
Key Features:
1. 11-in-1 Versatility
The UGREEN Revodok Pro is a Swiss Army knife for your laptop. With two HDMI ports, a 10 Gbps USB-C 3.2 Gen 2 port, two 10 Gbps USB-A 3.2 Gen 2 ports, a USB A 3.0, 100W Power Delivery, RJ45 Ethernet, and an SD/Micro SD card reader, this hub empowers your laptop with an array of connectivity options.
2. Multi-Monitor Magic
Experience the power of dual monitors with the UGREEN Revodok Pro. Hook up two displays to both HDMI ports, supporting 4K resolution at a smooth 60Hz. This feature enhances your cross-screen multitasking and creative workflows, making you more efficient and productive. Additionally, you can connect to a single 8K display via HDMI 2 for an immersive visual experience.
3. Enter the USB 3.2 Era
Fast data transfers are the backbone of modern work. With the USB-C data port and dual USB-A ports, the UGREEN Revodok Pro ushers you into the USB 3.2 era, supporting speeds of up to 10 Gbps. Efficiently transfer files, movies, photos, and more, and rest assured that the C port, marked with 10Gbps, is exclusively for data transmission and does not support video output or charging.
4. 100W Power Delivery
Keep your laptop charged and ready for action. The UGREEN Revodok Pro supports up to 85W USB-C pass-through charging via the USB-C PD port, reserving 15W for other interface operations. This ensures your laptop remains powered up while you multitask.
5. Ultra-Fast Ethernet
Don't compromise on internet speed. The UGREEN Revodok Pro features a 1000Mbps Ethernet port, offering ultra-high-speed internet connections. Whether you're streaming, gaming, or handling data-intensive tasks, you'll always have a stable and lightning-fast internet connection.
The UGREEN Revodok Pro 11-in-1 USB C Hub Dual Monitor Docking Station with Dual HDMI is your gateway to unparalleled productivity and connectivity. It's the ultimate companion for creative professionals, multitaskers, and anyone who demands more from their laptop. Elevate your work and play with this powerful docking station. Your laptop will thank you for it!
Related products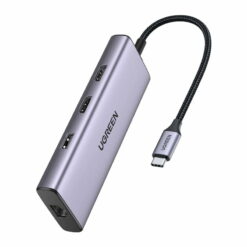 Out of stock
You have not viewed any product yet.