UGREEN Gooseneck Tablet Holder for Desk and Bed
Only 1 left in stock
Compare
Description
Product Description
Features of the UGREEN Gooseneck Tablet Holder
【Extremely Sturdy and Duarable】 The gooseneck phone tablet holder is an upgraded version with two solid straight poles and one mouldable gooseneck. The straight poles are made of strong metal, ensuring great stability than other pure swan neck tablet stand holders.

【Make Life Much Easier】The heavy-duty table holder stand for the bed can hold your device for you when you're lying in the bed, watching Netflix, or reading on Kindle hands-free. The best design of the iPad holder stand is that the arm can swing 360 °horizontally. You can easily swivel your device away from the bed and return it to the same position the next time you use it.

【Versitile Usage and Unique Design】The iPad clamp holder can be clamped to the side of the desk, bedframe, headboard, nightstand, end table, and anywhere you need it. The joint of the two straight poles can open as wide as 270 °, making it possible to hold your device at different heights according to your specific needs. The small clip on the swan neck holds a charger cable out of the way so your device can charge while in use without the cord hanging in your face.

【Smooth and Flexible adjustment】The top part of the clip tablet stand holder is a bendable gooseneck, allowing more adjustment and flexibility. The ball socket joint holding the device clamp is easy to angle and rotate smoothly, offering you more freedom to watch your phone/tablet horizontally or vertically.

【Broad Compatibility】The expandable part that holds the tablet slides wider when pushed left and right, and fits devices up to 12.9'' even with the case on. A perfect mount for phones, tablets, Kindles, switches, e-readers, iPad Mini Air Pro 12.9/9.7, Samsung, Galaxy Tab, Kindle, Fire HD, etc.

【Instructions】Do does not need any tools. Easy to assemble and manage. Please loosen the buckle of the joint of the straight poles first to arrange the angle of the arms. Pull down the spring lock of the joint first to rotate the arm vertically. The wrong way of using may result in snapping the tablet mount.
Related products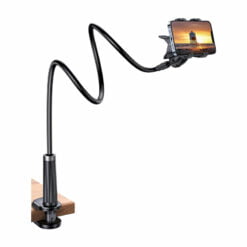 Out of stock
You have not viewed any product yet.