Description
Product Description
Nintendo Switch price in Kenya is Ksh 44,000/=, this price is however not set in stone as we have offers and discounts all through the year. So check out the current price above the add to cart button.
More details are on the official Nintendo Switch website.
Nintendo Switch is the company's newest home video gaming console. The Nintendo Switch system, in addition to providing single and multiplayer thrills at home, can also be taken on the move, allowing gamers to enjoy a full home console experience whenever and wherever they want.
With the two new Joy-Con controllers, the mobility of a handheld is now combined with the power of a home gaming system, allowing for unprecedented new play styles.
Nintendo Switch Specs
Size
Approximately 4 inches high, 9.4 inches long, and 0.55 inches deep (with Joy-Con attached)


*The depth from the tip of the analogue sticks to the tip of the ZL/ZR buttons is 1.12 inches

Weight
Approximately .66 lbs
(Approximately .88 lbs when Joy-Con controllers are attached)
Screen
Multi-touch capacitive touch screen / 6.2-inch LCD Screen / 1280 x 720
CPU/GPU
NVIDIA Custom Tegra processor
Storage
32 GB of internal storage, a portion of which is reserved for use by the system. Users can easily expand storage space using microSDHC or microSDXC cards up to 2TB (sold separately).
Wireless
Wi-Fi (IEEE 802.11 a/b/g/n/ac)(*)
Bluetooth 4.1
(*In TV mode, Nintendo Switch systems can be connected with a wired LAN adapter – sold separately)
Video output
Up to 1080p via HDMI in TV mode
Up to 720p via the built-in screen in tabletop mode and handheld mode
Audio output
Compatible with 5.1ch Linear PCM output
Output via HDMI connector in TV mode
Speakers
Stereo
Buttons
Power button / Volume button
USB connector
USB Type-C
Used for charging or for connecting to the Nintendo Switch dock.
Headphone/mic jack
3.5mm 4-pole stereo (CTIA standard)
Game card slot
Nintendo Switch game cards
microSD card slot
Compatible with microSD, microSDHC, and microSDXC memory cards *Once the microSDXC card is inserted, a system update will be necessary. An Internet connection is required to perform this system update.
Sensor
Accelerometer, gyroscope, and brightness sensor
Operating environment
41-95 degrees F / 20-80% humidity
Internal battery
Lithium-ion battery/4310mAh
Battery life
Approximately 4.5 – 9 hours
*The battery life will depend on the games you play. For instance, the battery will last approximately 5.5 hours for The Legend of Zelda: Breath of the Wild.
Charging time
Approximately 3 hours


*When charging while the hardware is in sleep mode
Nintendo Switch Features
Play Anywhere
The main unit is docked in the Nintendo Switch dock at home, which links the system to the television and allows you to play with family and friends in the comfort of your own living room.
When you take the Nintendo Switch out of the dock, it automatically switches to handheld mode for on-the-go gaming. Players can compete for when away from home by sharing Joy-Con. You can also use the supplied stand to raise the system and play the same amazing games in tabletop mode.
New Play Styles
Remove the detachable Joy-Con from either side of Nintendo Switch for more play styles:
One player can use a Joy-Con in each hand
Two players can each take one
Multiple Joy-Con can be employed by numerous people for a variety of gameplay options (additional Joy-Con sold separately)
Slip a set of Joy-Con into a Joy-Con grip accessory, mirroring a more traditional controller. Or, select an optional Nintendo Switch Pro Controller.
Bring together up to 8 Nintendo Switch systems for local face-to-face multiplayer.
The Joy-Con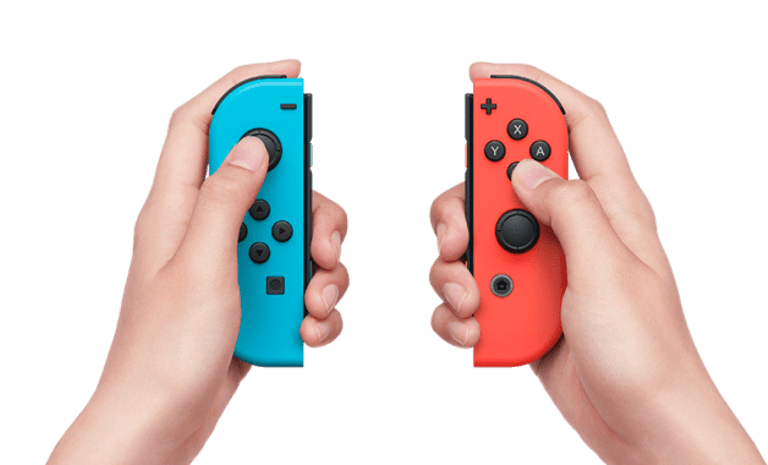 Includes traditional inputs of previous platforms, such as two analogue sticks, A/B/X/Y buttons (or directional buttons), and two shoulder buttons.
Each Joy-Con can be used as a single controller. When playing this way, Joy-Con (L) and Joy-Con (R) have the same button layout. When a Joy-Con is held horizontally, the buttons on top can be used as L and R Buttons (they are called the SL and SR Buttons).
Capture Button: The Capture Button is located on Joy-Con (L) and is used to take gameplay screenshots. The player can then view, edit (add text of various sizes, colours and positions) and post them to popular social media networks
Motion Control: Each Joy-Con includes a gyroscope and accelerometer.
HD Rumble: Both Joy-Con includes advanced HD Rumble, which can provide compatible games with subtle vibrations that are much more realistic than before. The effect is so detailed that a player could, for example, feel the sensation of individual ice cubes colliding inside a glass when shaking a Joy-Con. With HD Rumble you can experience a level of realism not possible through sights and sounds alone.
IR Motion Camera: Joy-Con (R) includes an IR Motion Camera that can detect the distance, shape and motion of nearby objects in specially designed games. For example, it can tell how far away a player's hand is, and even if the hand is forming a rock, paper or scissors shape.
Rechargeable: Joy-Con charge while attached to a docked Nintendo Switch system. They can also be charged using a Nintendo Switch charging grip accessory (sold separately).
Colours: Joy-Con is available in multiple colours at launch: grey, neon red and neon blue.
Release Button: On the back of each Joy-Con is a small button that is pressed to detach the controller from the main unit.
What's in the Box
Nintendo Switch console
Nintendo Switch dock
Joy-Con (L) and Joy-Con (R)
Two Joy-Con strap accessories
One Joy-Con grip
HDMI cable
Nintendo Switch AC adapter
Specifications
Product Specs
| | |
| --- | --- |
| Brand | |
| Battery Play Time | 4-9hr |
| Connectivity | Bluetooth 4.1, WLAN – Wi-Fi 802.11 |
| Connector Ports | 3.5 mm Audio Out: 1, Power Interface: USB-C |
| Memory | 4GB DDR4 |
| CPU | ARM 4 Cortex-A57 |
| GPU | 256 Maxwell-based CUDA cores |
| Model Year | 2017 |
| Output Resolution | 1080p, 720p |
| Storage | 32GB eMMC, Expandable: microSD/HC/XC (up to 2 TB) |
| Style | Animal Crossing, Fortnite, Gray Joy‑Con, Mario, Neon Blue and Neon Red Joy‑Con |
| Battery | 4310mAh |
Related products

Blue

Coral

Gray
+2

Turquoise

Yellow
You have not viewed any product yet.