Logitech H390 Wired Headset, Stereo Headphones with Noise-Cancelling Microphone
Out of stock
Want to be notified when this product is back in stock?
Compare
Description
Product Description
Features of the Logitech H390
Optimum Comfort: PC headphones with plush, padded headband and earcups

Enhanced Audio: Experience premium sound quality. System requirements: Windows Vista, Windows 7, Windows 8, Windows 10 or later, Chrome OS or  MAC OS X (10.2.8 or later), with USB-A port

Noise-Cancelling Qualities: A rotating microphone that minimizes background noise for clear calls

Advanced digital USB: Laser-tuned drivers provide enhanced digital audio. This plug-and-play headset can be used with any PC or Mac computer with a USB-A port or adapter without any software installation

In-Line Controls: Adjust the volume and mute your mic via the headset cable

USB Connectivity: Plug-and-play when you are ready with a simple USB connection

Upgrade to Logitech H540 headset for high-definition sound and on-ear controls
Works with Chromebook: This product is tested and certified as works with Chromebook, which means it meets Google's compatibility standards and works seamlessly with your Chromebook

NOTE: If the headset is not working Please adjust the headset volume on the cable control. Make sure the headset is not on mute. The mute light flashes when the mute has been activated. Check the USB cable connection to your computer. Try a different USB port on your computer. Connect directly to your computer. Do not use a USB hub.
Related products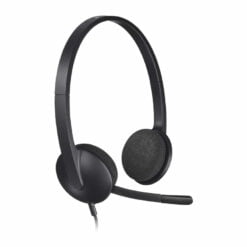 Out of stock
You have not viewed any product yet.