Samsung Galaxy Buds Pro, Phantom Silver
Compare
Description
Product Description
Get your Samsung Galaxy Buds Pro from GetWired Tronics at the best price in Kenya. Fast same day shipping countrywide, receive your order on the same day within Nairobi and the next day for the rest of the country. With our easy return and product warranty, you can rest easy and have confidence in your purchase.
More from the manufacturer
Overview of the Samsung Galaxy Buds Pro
The buds pro were announced on the same day as the new S series, the S21 and were a bundled offer of the phone. The Samsung Galaxy Buds Pro price in Kenya vary as they are either sold as a stand-alone accessory or bundled with the S21.
Build
The Galaxy Buds Pro are true wireless in-ear headphones and as with all of them finding the right tip goes a long way in effective sound quality. With the right tip, the buds will stick in your ear and stay even when you are moving around vigorously.
Each bud weighs in at only 6.3g and after a few hours of wear, you will forget that they are even there. The case features a glossy and reflective cover and the buds are water-resistant good for the sweaty day in the gym.
Sound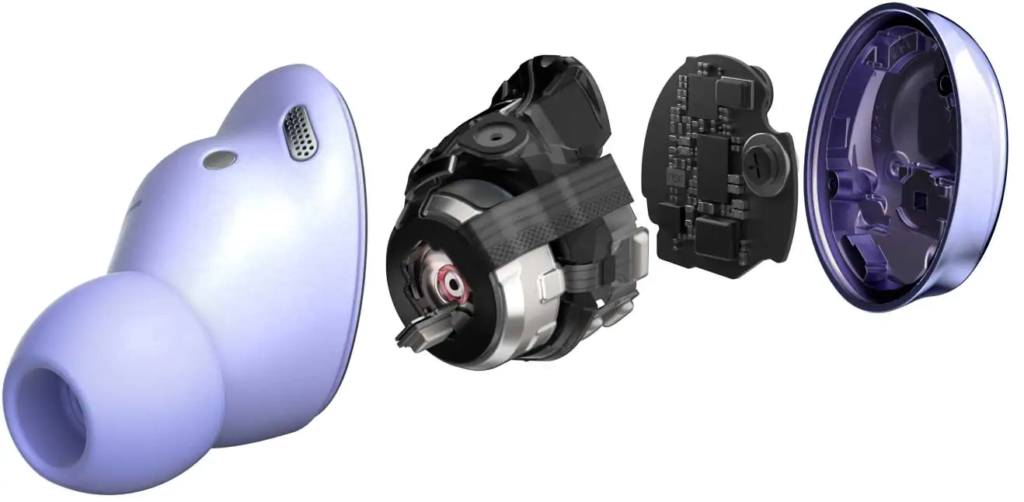 The Samsung Galaxy Buds Pro come with dual drivers an 11mm for the subwoofer and a 6.5mm one for the tweeter. They work in tandem to produce a good balance of both highs and lows.
The buds are truly wireless earbuds, and with technology for an immersive sound. While Intelligent ANC lets you switch between noise-cancelling and ambient sound with full control. This gives you the control to chose between the modes.
Features
The Samsung Galaxy Buds Pro have Voice Detect which switches from ANC to Ambient sound when you start to speak this turns off ANC when you speak. The buds hence focus the mic on the person you are talking to.
Ambient sound means you don't have to take your earbuds out to join the conversation. You can hear voices with clarity and in real-time. With an intelligent algorithm raising the volume of the environment through four levels, you don't miss out on important parts of the discussion.
Samsung Galaxy Buds Pro have 360 Audio that immerses you fully in what you are listening to. With Dolby Head Tracking™ technology and intelligent motion-tracking sensor pinpoints the direction of the sound as you move your head. And with content in Dolby Atmos®, hear every detail with greater clarity.
Get the latest Samsung Galaxy Buds Pro price in Kenya from GetWired Tronics and enjoy stress-free online shopping in the comfort of your home.
 
Specifications
Product Specs
| | |
| --- | --- |
| Brand | |
| Model | SM-R190 |
| Model Year | 2021 |
| Colour | Phantom Silver |
| Headphone Features | Active Noise Cancelling, Adaptive Sound Control, Bixby, Dolby Atmos, NFC, Smartphone App, True Wireless, Waterproof |
| Battery Play Time | 18hr |
| Connectivity | Bluetooth 5.0 |
Related products
You have not viewed any product yet.